Almost exactly five years ago — on April 3, 2015, at our parish's Good Friday service — our choir sang a piece by Cristóbal de Morales (c. 1500-1553). It was a poignant setting of several verses from the book of Job. Parce mihi, Domine ("Spare me, Lord") captures the sense of desolation and abandonment that is expressed by Job, a dark condition akin to the forsakeness that our Lord experienced on the cross. Although the work was not composed with liturgical use on Good Friday in mind, it seemed fitting for us to sing it then.
Morales, Parce mihi, Domine
The Monteverdi Choir, John Eliot Gardiner, director
Parce mihi, Domine, nihil enim sunt dies mei.
Spare me, Lord, for my days are nothing.
Quid est homo, quia magnificas eum?
What is man, that you should praise him?
Aut quid apponis erga eum cor tuum?
Or why do you place your heart near him?
Visitas eum diluculo et subito probas illum.
You visit him at dawn, and you test him unexpectedly.
Usquequo non parcis mihi, nec dimittis me, ut glutiam salivam meam?
How long will you not spare me, nor release me to ingest my saliva?
Peccavi, quid faciam tibi, o custos hominum?
I have sinned; what should I do for you, O keeper of men?
Quare posuisti me contrarium tibi, et factus sum mihimet ipsi gravis?
Why have you set me against you, so that I have become burdensome even to myself?
Cur non tolles peccatum meum, et quare non aufers iniquitatem meam?
Why do you not steal away my sin, and why do you not sweep away my iniquity?
Ecce, nunc in pulvere dormiam, et si mane me quaesieris, non subsistam.
Behold, now I will sleep in the dust, and if you seek me in the morning, I will not remain.

That work was the first composition by Morales that we shared with the parish. Since then, we have had the opportunity to sing five others, including the Communion motet O sacrum convivium.
Morales is widely considered the first Spanish composer of polyphonic sacred works to receive international recognition. Most of his life was spent in service of churches in Spain, although he spent about ten years as a singer in the Papal chapel in Rome.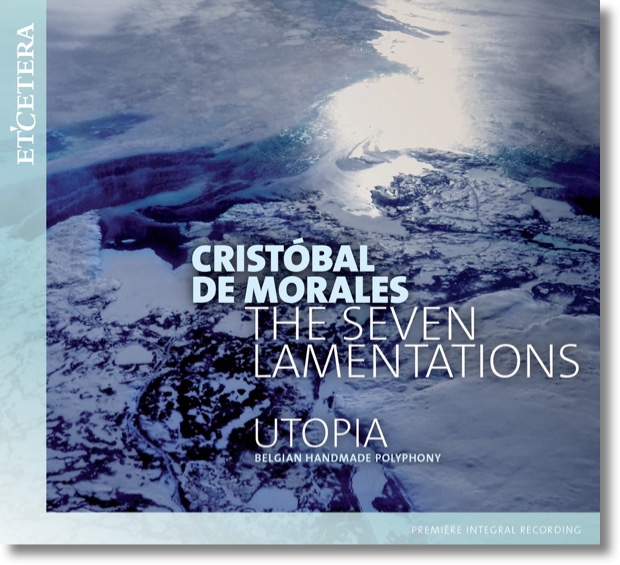 As did many other 16th-century composers across Christendom, Morales set the agonizing poems we know as the Lamentations of Jeremiah to music for use during Holy Week (see here for more details on this liturgical and compositional practice). During his lifetime, copies of his Lamentations were disseminated across Europe and even to the New World: 16th-century copies of his music have been found in Mexico and Guatemala.
Sadly, only seven of Morales's Lamentations settings survive. In 2016, they were recorded by the five-voice Belgian-based ensemble, Utopia (their charming slogan is "Belgian handmade polyphony"). Their performance of Morales's music boasts a clarity that allows the emotional power implicit in his rich harmonic constructions to shine through.
Unlike the setting by Thomas Tallis I discussed earlier, Morales included in his setting of the first three verses on the first chapter of Lamentations the complete text of the prologue to the book which is included in the Latin Vulgate text. (Text and translation appear below the video.)
Et factum est, postquam in captivitatem redactus est Israel, et Jerusalem deserta est,
And it happened that, after Israel was driven into captivity, and Jerusalem was deserted,
sedit Jeremias propheta flens, et planxit lamentatione hac in Jerusalem:
the prophet Jeremiah sat weeping, and he wailed this lamentation in Jerusalem.
et amaro animo suspirans et ejulans, dixit:
And sighing with a bitter soul, and mourning, he said:
ALEPH. Quomodo sedet sola civitas plena populo!
ALEPH. How lonely sits the city that was full of people!
Facta est quasi vidua domina gentium;
How like a widow has she become, she that was great among the nations!
princeps provinciarum facta est sub tributo.
She that was a princess among the cities has become a vassal.
BETH. Plorans ploravit in nocte, et lacrimæ ejus in maxillis ejus:
BETH. She weeps bitterly in the night, tears on her cheeks;
non est qui consoletur eam, ex omnibus caris ejus;
among all her lovers she has none to comfort her;
omnes amici ejus spreverunt eam, et facti sunt ei inimici.
all her friends have dealt treacherously with her, they have become her enemies.
GHIMEL. Migravit Judas propter afflictionem, et multitudinem servitutis;
GHIMEL. Judah has gone into exile because of affliction and hard servitude;
habitavit inter gentes, nec invenit requiem:
she dwells now among the nations, but finds no resting place;
omnes persecutores ejus apprehenderunt eam inter angustias.
her pursuers have all overtaken her in the midst of her distress.
Jerusalem, Jerusalem, convertere ad Dominum Deum tuum.
Jerusalem, Jerusalem, turn to the Lord, your God.
Througout the book of Lamentations, the plundered city of Jerusalem is personified as "the daughter of Zion." In his commentary on Lamentations, Derek Kidner writes:
Because of her special relationship in the light of the covenantal relationship, Jerusalem, the virgin daugter, had considered herself inviolable (cf. 4:12). Now she knows to her cost how presumptuous she had been. The Christian must trust in Christ alone for his sufficiency (cf. 2 Cor. 12:9; Gal. 2:20. etc.), for when he thinks he stands independently he is in greatest danger of falling. Unlike the Christian, whose greatest consolation is his Saviour, the city of Jerusalem had no-one to comfort her in time of acute crisis, making her sad fate all the more poignant. Verse 17 [of chapter 1] seems to be a parenthetical insertion in which the writer takes up the lament on behalf of the stricken city, depicted as stretching out its hands in a gesture of sorrow and supplication. God is here represented as the righteous judge who has finally punished His recalcitrant people for their long-standing rebellion. Jerusalem had become contaminated through indulging in the sensuous and depraved rituals of Canaanite religion, and now the time of her prophesied punishment has come (cf. Rev. 22:10f.).
One of the surviving scores of Morales's settings of Lamentations includes the passage Kidner is discussing here, verses 17 and 18 of chapter 1. Those verses are designated with the Hebrew consonants Phe and Sade, letters which Morales sets to music to introduce each verse.
PHE. Expandit Sion manus suas, non est qui consoletur eam:
     PHE. Zion has reached out her hands; there is no one to console her.
mandavit Dominus adversum Iacob in circuitu eius hostes eius:
     The Lord has given orders against Jacob; his enemies are all around him.
facta est Ierusalem quasi polluta menstruis inter eos.
     Jerusalem among them is like a woman made unclean by menstruation.

SADE. Iustus est Dominus, quia os eius ad iracundiam provocavi.
     SADE. The Lord is just, for it is I who has provoked his mouth to wrath.
Audite obsecro universi populi, et videte dolorem meum:
     I beg all people to listen and to see my sorrow.
virgines meæ, et iuvenes mei abierunt in captivitatem.
     My virgins and my youths have gone into captivity.