The Boston Camerata, an ensemble specializing in music from the baroque era and earlier, was founded in 1954. It was originally a performing adjunct to the musical instrument collection at the Museum of Fine Arts in Boston. Between 1969 and 2008, the group was directed by Joel Cohen, under whose leadership the group produced a number of recordings, including many albums of rather unconventional Christmas music. The first one that I obtained in 1975 (on vinyl) was called A Medieval Christmas. That album was followed over the years by six more recordings, each focusing on music from a specific era or region.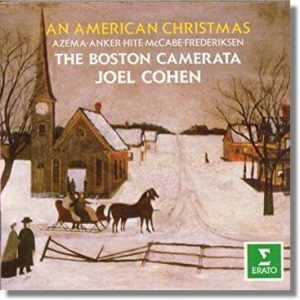 One of these later recordings (1993), An American Christmas: Carols, Hymns and Spirituals, 1770-1870, includes works celebrating Christ's birth from a relatively unknown period of American musical history. As Cohen wrote in the album's liner notes, "Neglected and shunned, like the baby Jesus himself, these small American masterpieces nonetheless speak with the clear, pure voice of grace, recalling the inner sense of the season, and restoring a part of our own selves."
Among these works are some from the Sacred Harp tradition, such as this piece called "Baptismal Anthem," which is the story of the coming of John the Baptist.
While many of the works in this collection are from anonymous sources, some are the work of recognized poets and composers, the most famous being William Billings (1746-1800). Most of Billings's music is known by the tune title, not by the texts (many of which he wrote himself), so one might for forgiven for not realizing that a work entitled "Boston" is the story of the angels appearing to shepherds to announce the Nativity. Here's the text to the first verse:
Me thinks I see a heav'nly host
of Angels on the wing,
Me thinks I hear their cheerful tones
So merrily they sing:
Let all your fears be banished hence,
Glad tidings we proclaim.
For there's a Saviour born today,
and Jesus is his name.
And here is the rousing performance of "Boston" by the Boston Camerata, supplemented by the Schola Cantorum of Boston.
In an earlier post, I explained why there were so many tunes to which people sang "While shepherds watched." One of those tunes was SHERBURNE, written in 1793 by Connecticut musician Daniel Read. It is apparently still a favorite at shapenote sings.
While CDs of this recording are hard to come by, it is available from a number of digital music sources. The earlier album I mentioned, A Medieval Christmas, has been repackaged along with two other Boston Camerata releases, A Renaissance Christmas and A Baroque Christmas. This latter collection includes the complete Christmas Eve midnight mass of Marc-Antoine Charpentier (Messe de minuit pour Noël), one of the gems of the French baroque Christmas repertoire.