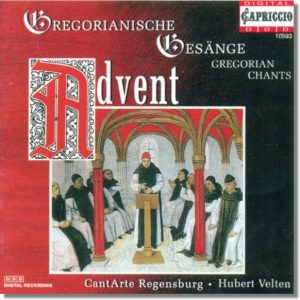 Earlier this week, I recommended a recording of Advent music sung by an all-female group, the sisters of the Benedictines of Mary, Queen of Apostles. The current recording features an all-male ensemble, CantArte Regensburg. This album includes traditional Gregorian chant settings of many texts used liturgically during Advent, including texts from the propers for the Sundays in Advent (Introits, Gradual and Alleluia, Offertory, Communion) and the texts for the O antiphons, traditionally sung at Vespers during the last week of Advent.
There are different ways of chanting these venerable works. Sometimes one hears recordings of monks who seem to have among their ranks sincere but somnabular brothers whose chanting may convey a sense of mystery but not for the right reasons. Then there are the operatic "chanters," well-trained singers who bring to these prayerful melodies impressive skills suitable for the concert-hall, but not within the liturgy.
The ensemble on this recording benefits from disciplined voices who seem to understand the aesthetics of reverence that this body of music requires. Unfortunately, having purchased a digital copy of the recording, I don't have access to the CD booklet, and so don't know much about the group (an internet search simply offered me more places to buy the album).
Since our choir has sung many of these texts in English during Advent, it was a pleasure to hear the Latin originals in their Gregorian settings. I look forward to spending more time with this recording in coming years.